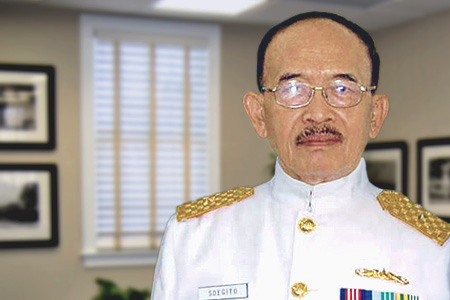 Rear Admiral (Ret) R. Soegito
Co Founder, Management Representative
Real Admiral (Ret) R. Soegito is the co-founder of PT. Slickbar Indonesia, formerly, an admiral for the Indonesian Navy. 
In 1959, he graduated from Indonesian Naval Academy. In 1984, he graduated was from National Defense Institute (LEMHANAS). 
His role in the Indonesian Navy includes; Whiskey-Class Submarine Comanders, Head of the Indonesian's Navy Telecomunication and Electronic Department, and Commander of Indonesian Navy's Military Sea Lift Command (KOLINLAMIL) Jakarta. 
R. Soegito received many prestigious awards from the Goverment of Indonesia, namely Satya Lencana Kesetiaan XXIV, Satya Lencana Satya Dharma (active in the campaign for West Papua), Satya Lencana Wira Dharma (Active in Indonesia-Malaysia Confrontation), Satya Lencana Penegak, Bintang Jalasena Nararya from the President of the Republic of Indonesia for his contribution to the Indonesian Military and Navy (the highest award for Navy Generals for protecting national maritime teritories), and Adhikarya from the Minister of Transportation. 
His foreign exposures and communication skills become an important assets in the establishment and development PT. Slickbar Indonesia.