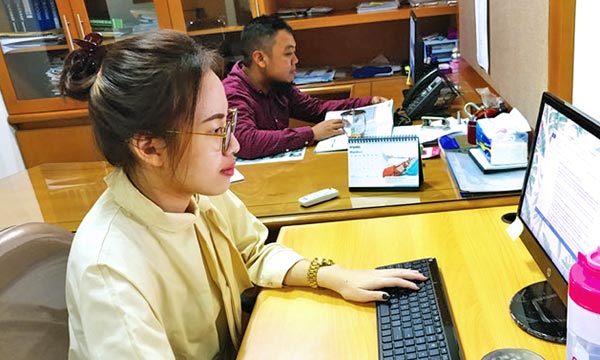 Organizations around the world evolve and continuously strive to protect the environment in response to the changing of era and growth of the oil spill industry. PT. SLICKBAR Indonesia is one of the largest oil spill control companies in the world and SLICKBAR® Indonesia is committed to remain the leading oil spill control company in the world.
At SLICKBAR® Indonesia, we are looking for individuals to bring their innovation to a results oriented and innovative team of industry leaders. We want to hear from people who share our commitment to protect Indonesia and global environment.
CONTACT US or SEND your CV to: career@slickbar.com
WORKING FOR SLICKBAR INDONESIA
SLICKBAR® is a world leader in the manufacture of quality oil spill response equipment. PT Slickbar Indonesia strives to maintain a positive, productive and supportive work environment throughout its operations. We have a long-established programs that help employees develop their skills and we work to maintain and nurture a diverse and highly talented workforce.
PT Slickbar Indonesia hire exceptional people, and every one of them is empowered to think independently, take initiative, responsible, and be innovative. At SLICKBAR® the employees are one of the key to our success. Our commitment to growth and development mean we recruit the best and brightest talents in the business.
If you have a desire to work for SLICKBAR®, email you CV and/or resume to career@slickbar.com. Briefly describe yourself and how you can contribute to our growing company.
AVAILABLE POSITIONS
Purchasing Staff (CODE: PU-WEB)
JOB RESPONSIBILITIES
– Create Purchase Order (PO) based on WH request
– Responsible making sure all requested items within the request are fulfilled within the required date
– Liaising with vendors to get updated quotations
– Coordinate with Purchasing Supervisor
– Getting PO approvals from required person
– Getting invoice from Vendor and other required documents
– Responsible making sure the item specification the same of equivalent with the requested items
– Liaising with WH in getting alternative items/product if the requested items/products unavailable
– Negotiate with vendors for best price and payment terms
– Responsible making purchase analysis for the requested items/products
– Liaising with vendors to make sure requested items are delivered within the required time frame
– Liaising with WH to ensure the right products are delivered by vendor
– Coordinate invoice payment with Finance Account Department
– Looking for new vendors
– Other duties assigned by Purchasing Supervisor or Manager
– Other duties assigned by Management
REQUIRED SKILLS AND BACKGROUND
– D3/S1 graduate of Accounting, Management, Administration, or similar faculties
– Minimum 1 year experience in Purchasing
– Purchasing experiences in manufacturing industry (prioritized)
– Fluent in English (Listening, Speaking, and Writing)
– Excellent communication and interpersonal skills
– Strong negotiation skill
– Computer literate and able to use Microsoft office (Excel and Word)
DESIRED PERSONALITY TRAITS
– Hard working, proactive, fast learner, honest, and organized
– Accountable, Able to work under pressure, and able to prioritize work/task
– Self motivate, able to work as a team and unsupervised
OTHER REQUIREMENTS AND CONDITIONS
– 22-30 years old
– Has a laptop for work purposes (prioritized)
– Has been vaccinated at least once (prioritized)
– Initial 6-12 months' Probation contract and Work Evaluation
– Contract extension will be offered based on performance
START:09.12.2021 | END:28.02.2022
Marketing Staff (CODE: MKT-WB)
Job Description
– Promote and Market SLICKBAR® solutions
– Setup meeting with client
– Company and Product presentation online and at client's side
– Create Quotation and follow-up on payments
– Create projects and follow-up on project progress till project completion
– Completing tender documentation, preparation, and qualifications
– Create project progress update report and forecast
Preferable
– Two years experience in marketing or sales or similar
– Have previous experience in Oil & Gas Industry – Health, Safety and Environment
General Requirement
– single and less than 35 years old
– One year experience in marketing or sales or similar
– Creative, think outside the box, and able to network
– Able to use Microsoft Outlook, Word, Excel, and Power-point
– Fluent in English language (Listening, Speaking, and Writing)
– Proficient in presentation
– Able to create scope of work, proof of concept, case studies, and recommendation report
– Able to travel
– Has been vaccinated twice
Desired Trait/Skill
– Excellent Communications and Interpersonal skills
– Personable and Well-Groomed
– Target/result driven and able so self motivate
– Able to work in team and unsupervised
– Have TOEFL/IELTS certificate
START:08.02.2022 | END:28.02.2022